Maintenance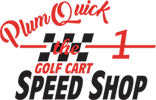 Maintaining Your Cart For Maximum Performance
In order to get the best results out of your cart after upgrading to a Plum Quick Motor, you should verify that your cart is not limited by the following common issues.
Sticking or dragging brakes
Sticking or dragging brakes can be caused by dirty cable housings that prevent brake release, brake shoe dust inside the hubs or oil on the brake shoes.
Improper wheel alignment
Your wheels should have approximately 1/4 of an inch toe-in. Measure from the center of the tire half way up at the back and center of the tire half way up at the front. Toe-in should be 1/4 of an inch shorter at the front.
One or more weak batteries
Make sure each battery has the proper water level which is approximately 1/4 of an inch above the plates. If they are low, do not overfill! Check all of the batteries with a battery load tester. All of the batteries should provide readings that are pretty close within range of each other.
Bad, worn or loose battery cables
Check all battery cables and connections for corrosion or excess wear. If your cables are corroded, remove them and then clean thoroughly. Replace bad wires if necessary.
"Dirty" F&R switch
Inspect the forward and reverse (F&R) switch. If the contacts look dirty, they should be cleaned or the switch should be replaced. A dirty forward and reverse switch can result in poor performance.
Improperly adjusted V-glide linkage
Make sure the V-glide wiper brush travels the full distance when the accelerator pedal is fully depressed. Also ensure the brush is level on the contact pads.
Wheel bearing drag
Ensure the front wheel bearings are clean, inspected and packed with new grease. Do not over torque the spindle nut, just snug up and install the cotter pin.
Leaking axle seals
Any oil located on the brake shoes will cause a sticky drag effect. Replace the axle seal and then clean or replace the shoes properly.
Improper tire pressure
Never run tires under inflated. This can have a direct effect on the top speed of your cart. Run your tires at 25 psi.
Overheating motor
An overheated motor can cause the winding insulation to break down or an armature commentator ground which will result in poor performance. Ensure that your motor is getting plenty of open airflow to ensure it stays as cool as possible.
Bad motor bearings
A bad motor bearing can result in poor performance due to armature drag. A key indicator of a bad motor bearing is excess noise.
Badly worn or sticking brushes
A build up of carbon dust can infiltrate the brush pack and cause the brushes to hang in the holders and result in bad contact with the armature commentator which will cause poor performance.
Liability Statement:
The purchaser understands that it is the duty of the purchaser to comply with, and insure compliance with, all necessary safety requirements and agrees to indemnify and hold harmless Plum Quick Motors of any and all liability, direct or indirect, arising from the use or misuse of the merchandise or any other action related to, or incidental to, the merchandise purchased by the purchaser.
The purchaser agrees to allow no individual under the age of majority to operate or otherwise use the merchandise purchased from Plum Quick Motors.
Purchaser agrees to indemnify and hold harmless Plum Quick Motors from any claims of third parties, whether authorized by purchaser or not, arising from, related to, or incidental to this contract or the merchandise purchased pursuant to this contract. Any warranties made by Plum Quick Motors pursuant to this contract may not be transferred to third parties.
Return Policies:
Merchandise cannot be disassembled or damaged by incorrect installation. Plum Quick will NOT be liable for any cost of service calls, installation, alleged harm, both personal and materially and/or any damages from the installation of our products. All returns are subject to a 25% restocking fee regardless of reason for return.
Special order custom motors are non-returnable.
If you order a custom motor and receive the wrong motor as a result of misinformation on your part, it cannot be returned.