Choosing a Custom Built Motor
Voltage:
If your cart is 36 volts I would highly recommend converting it to 48 volts. The voltage effects two main areas.  The lower the voltage the higher the amp draw on the motor and excessive amps equals heat in the system also, voltage equals rpm's which effects motor speed. You can run a custom motor on 36 volts, but you'll get much more performance on 48 volts. You could upgrade to 48 volts in stages while still running the stock 36 volt motor. Install larger gauge wires first, use your cart, then a 36/48 volt main solenoid, use your cart, next a 36/48 volt controller, use your cart, 48 bolt battery pack and a 48 volt charger, use your cart. Now the last addition is the custom built motor.
Batteries:
You're looking for performance or you wouldn't be looking into a custom built motor. Batteries are the heart of the golf cart and to get the most out of your custom built motor you need a high quality battery pack. Don't skimp on batteries! Trojan T-875 (8 volt batteries) or Trojan T-105 (6 volt batteries) are great and come with an outstanding warranty. All batteries aren't created equal, there's a reason you pay less for off brand batteries!
Supporting Components:
Here's a good comparison. The battery is like a gas tank. The controller is like a carburetor and the wires (battery wires, controller wires, solenoid wires and F&R wires in a series cart) are like fuel lines. Any one of these not properly upgraded can and will starve the motor system of performance.
Torque vs Speed:
First off, if you use your cart for any amount of time hunting, trail riding, pulling a trailer or boat you need a high torque motor. It doesn't matter if you only use it for one of these condition 10% of the time or less! It only takes a few minutes to burn up a motor caused by a high amp stall. High speed motors draw more amps and when put under a high amp stall the motor can be damaged beyond repair. High speed motors are designed for flat terrain and slight hills.
Tires:
Don't go crazy with tall tires! The taller the tire the more amps the motor will pull. You're changing the gearing in the cart with tire height. Yes, taller tires can give you some more speed, but only up to the point that the battery pack is pushing all the reserve it has and then you'll get too much voltage drop and the lower the volts the more amps the motor will draw and you'll get overheating issues. If you're going to lift your cart then 22″ tall tires are very common and should work fine. If running taller tires, inflate to 25+ psi, this way your tires can spin under a load while climbing hills. Running slack tires will get a better grip, but the cart is more likely to stall under a large load while inflated tires will spin and help prevent a high amp stall.
Thanks,
Plum Quick Motors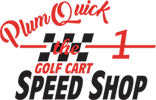 Shipping Info
Shipping, handling and replacement insurance rates for golf cart motors shipped within the 48 contiguous states:
Transit Time From:
Steen Products, Inc. / Plum Quick Motors
10590 Tillman Steen Rd.
Fort Mill, SC 29707
Business Hours: 9am-5pm Monday-Friday
Phone: 803-548-7205
(Please when you call . . . Call once and leave one message. We will get back with you as soon as possible. Thank You.)
Email: 
PlumQuick Sales:
PlumQuick Office:
Zone Rates:

Zone 1 - $60.00
Zone 2 - $65.00
Zone 3 - $70.00
Zone 4 - $75.00
Zone 5 - $80.00
Map of estimated transit time* for motors shipped within the 48 contiguous states: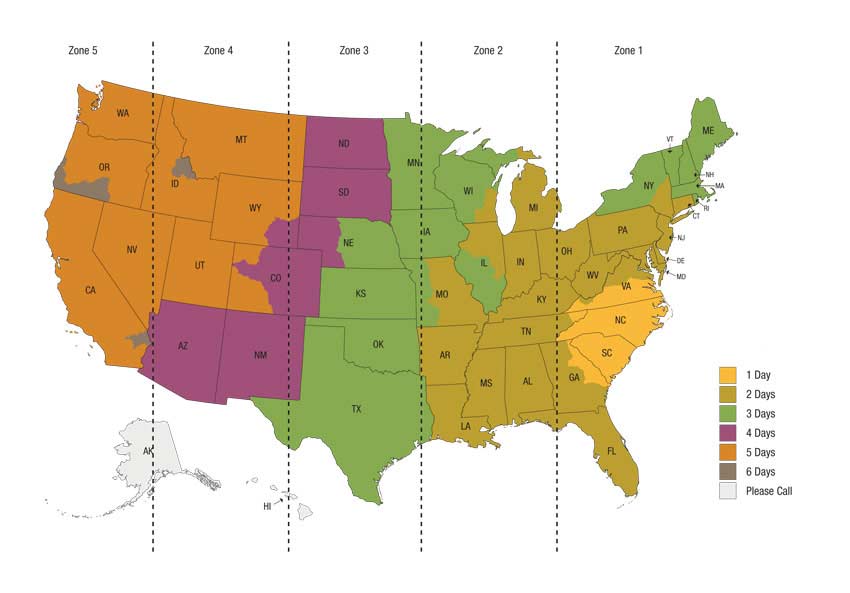 * Published transit times, in business days, are subject to change. Days indicated in color key are business days.
Satisfied Customers
"Over the past two years I have purchased two golf carts from Don Jenkins with the PQ Motor and one with the Center Console w/gear shift; I have been most pleased and recommend to anyone with a cart."— Noel Crick -
Liability Statement:
The purchaser understands that it is the duty of the purchaser to comply with, and insure compliance with, all necessary safety requirements and agrees to indemnify and hold harmless Plum Quick Motors of any and all liability, direct or indirect, arising from the use or misuse of the merchandise or any other action related to, or incidental to, the merchandise purchased by the purchaser.
The purchaser agrees to allow no individual under the age of majority to operate or otherwise use the merchandise purchased from Plum Quick Motors.
Purchaser agrees to indemnify and hold harmless Plum Quick Motors from any claims of third parties, whether authorized by purchaser or not, arising from, related to, or incidental to this contract or the merchandise purchased pursuant to this contract. Any warranties made by Plum Quick Motors pursuant to this contract may not be transferred to third parties.
Return Policies:
Merchandise cannot be disassembled or damaged by incorrect installation. Plum Quick will NOT be liable for any cost of service calls, installation, alleged harm, both personal and materially and/or any damages from the installation of our products. All returns are subject to a 25% restocking fee regardless of reason for return.
Special order custom motors are non-returnable.
If you order a custom motor and receive the wrong motor as a result of misinformation on your part, it cannot be returned.