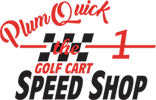 As the seasons change, we here at the Lancaster Sheriff's Office have really enjoyed the golf cart that you donated to us. We have used it at different functions, such as the Charlesboro Parade, Sun City, football games, festivals and this weekend we are using it at the Camp Meeting. We have gotten a lot of good use out of the golf cart.
We cannot thank you enough for the donation of the golf cart. It is detailed to match our patrol cars and people comment on the quality of the work.
Again, thank you for the golf cart.
I have known the folks at Plum Quick since the mid-nineties. You will not find a better group of people or better machinists anywhere. They're honest, hard-working, smart, and extremely good at what they do. I wouldn't hesitate to refer my best friends and family to them. In these times of economic and corporate distrust, Plum Quick reminds us of what business should be — about fabulous service, excellent products, and a feeling that you're being taken care of.
I recently took delivery of my customized cart. Carson has a business that practices honesty and ethics, which was a major factor in my purchase. If you are considering a purchase, you need to contact Steen Products.
A few weeks ago I purchased a Plum Quick motor. Carson was very kind and opened early. He showed my wife all around and I am impressed with their shop. I installed the motor which is very easy with the handle and I am very happy with the results. I will pass the word on Plum Quick motors every where I go.
Over the past two years I have purchased two golf carts from Don Jenkins with the PQ Motor and one with the Center Console w/gear shift; I have been most pleased and recommend to anyone with a cart.
I received and installed my new PQ D-310 motor yesterday and now my cart is "Plum Quick." It is a significant improvement in performance and I could not be happier. I truly appreciated Robby's candor and objectivity during our phone conversation. Robby took a lot of time to speak with me and answer my questions. It is absolutely clear to me that you are honest and professional people that are more interested in meeting the customer's needs than just selling them something to make a buck. It will be my pleasure to do business with you again in the future.
Just wanted to thank you guys for the work you did finding the problem on my cart. You're a great bunch of guys, I'll tell everyone I know that you are the guys to come and see for all their cart needs.
Recently installed the motor and F/R switch you rebuilt for me. WOW. Great torque and speed and all for a great price. Sure glad I found PlumQuick. I live in a golf cart community and I am continuously hearing comments as I pass other carts…what was that…what have you got in that thing. I have told each of those folks about you and your products. Thanks Mr. Steen.