$1,795.00
*Price Match Guarantee Plus $25.oo off any publicly advertised price for the same product with free shipping* 5 KW AC Conversion Kit
*Club CAR IQ * EZ-GO*Yamaha*
Free standard shipping to the 48 continguous United States
Kit Includes:
AC 5 KW Motor
600 amp AC Controller with Bluetooth
Adaptor Harness
Speed Sensor / Motor Temperature Harness
Mounting Plate and Hardware
Motor Phase Cable
On-The-Fly Programmer with keyed lock out
FREE Plum Quick Quick Green Xtreme Shirt
FREE Plum Quick AC Power Right and Left Body Decals
*We highly recommend 2ga. Wires and a HD Solenoid*
Performance:
Speed up to 25 mph and torque increase of 60% after programming with Dealer App up to 35 mph. *Performance is depending on the quality of the battery pack, 25 psi in the tires and no brakes dragging*
Call 1-803-548-7205 or email
We're in the process of updating the site with tons of information and installation videos.
Thank you
Shipping Info
Shipping, handling and replacement insurance rates for golf cart motors shipped within the 48 contiguous states:
Zone Rates:
Zone 1 - $40.00
Zone 2 - $45.00
Zone 3 - $50.00
Zone 4 - $55.00
Zone 5 - $60.00
Map of estimated transit time* for motors shipped within the 48 contiguous states: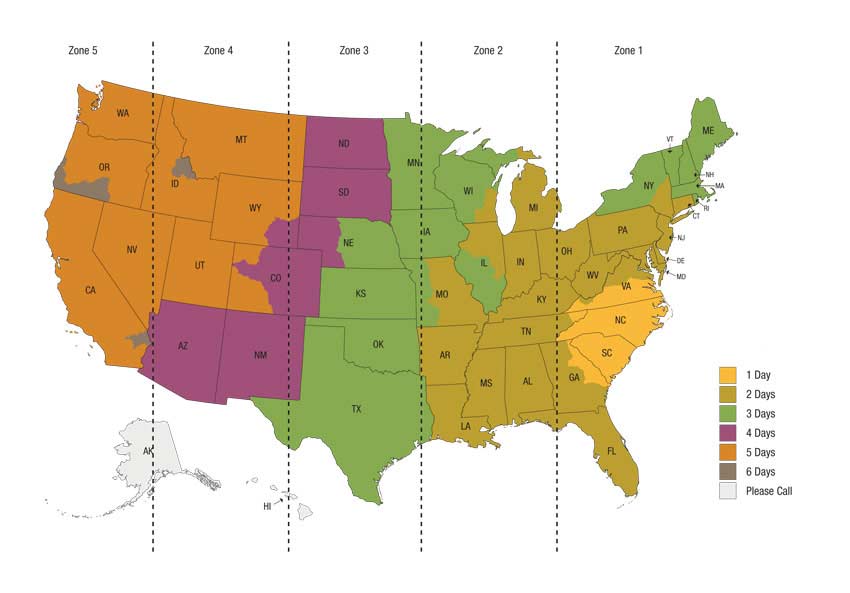 * Published transit times, in business days, are subject to change. Days indicated in color key are business days.
Satisfied Customers
"Over the past two years I have purchased two golf carts from Don Jenkins with the PQ Motor and one with the Center Console w/gear shift; I have been most pleased and recommend to anyone with a cart."— Noel Crick -
Downloadable Documents:
Please right-click and save the links below to your computer to print.