Want to Become a Plum Quick Dealer?
GET STARTED HERE!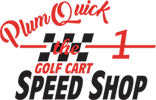 Dealer Inquiries:
Inquiring COMPANY must complete a resale certificate and email it to .

600+ Dealers Nationwide . . . . . . . Motors in every state and 12+ Foreign Countries
Once we receive your completed certificate, you may call us or email for dealer Bandit pricing.
Instruction: Save the dealer resale certificate to your computer then fill in your information on the form. When you're done, print and sign the form then email to .
Special note: You MUST be a golf cart dealer, selling golf carts and/or golf cart parts. If your business is anything other than selling golf carts and/or golf cart parts you will not be approved to become a Plum Quick dealer! We ONLY work with companies that are very reliable golf cart dealers with knowledge in parts installation and will provide technical support to their customers.
All NEW and APPROVED dealers can receive a custom stainless steel Plum Quick Authorized Dealer ring (size 12 mens only while supplies last) valued at $399.00 and a Plum Quick Motors Dealer banner FREE (while supplies last) with a one time order of FIVE Bandit upgraded motors.
We try our best to keep the Bandit upgrade time frame just as short as we possibly can. With that said, it all depends on our daily work load and in most cases it's around 10-14 business days once in our shop.
Note: Plum Quick charges $15.00 plus shipping cost to send a requesting dealer an empty motor box with inserts.
Note: Plum Quick buys good repairable AMD motor cores for EZ-GO and Club Car series or Sepex carts and GE motor cores for 48 volt Club Car IQ or Series carts.
Plum Quick Motors proudly supports General Cancer Awareness!
"Because it matters"
The Stallion 126 volt Lithium Golf Cart by Plum Quick Motors
Plum Quick Motors on Discovery Science Channel
PQ Executioner Golf Cart setting World Records " GYSOT "
PQ Executioner Golf Cart @ Pageland Dragway
Golf Cart + Pimp Juice= Street Burnouts......
PQ Golf Cart running in the 6's @ 50% power @ Pageland Dragway
Wild 7 second ride in a PQ Golf Cart @ Pageland Dragway
Plum Quick Motors on Discovery Channel
Auto Smarts Radio interview with Plum Quick Motors
Police pull over Golf Cart for burnout........
Street Burnout with the "World's Fastest Golf Cart".......
WOW...Amazing Dog rides along in golf cart @ 100+ mph......
OMG!! 118 mph GOLF CART on the DRAG STRIP...Ride along!!!!
New Plum Quick video intro.........
GOD bless our Veterans